News
A team of Iowa State researchers has been awarded funding to study the use of robotics in agriculture.
The project is led by mechanical engineering assistant professor Sourabh Bhattacharya, with co-PIs Baskar Ganapathysubramanian (associate professor, ME), Soumik Sarkar (assistant professor, ME), Asheesh Singh (assistant professor, Agronomy), and Arti Singh (adjunct assistant professor, Agronomy). The project is entitled "National Robotics Initiative: Saliency driven Robotic Network for Spatio-temporal Plant Phenotyping" and funding is provided by the U.S. Department of Agriculture's National Institute of Food and Agriculture and the National Robotics Initiative.
Bhattacharya said the project aims to assist farmers by utilizing robotic components in the field.
"The project involves developing a holistic framework for communication, control and motion planning for robotic swarms deployed in agricultural fields for gathering data," said Bhattacharya. "Guided by advanced learning and inference techniques, the robots will compete with each other in the field to acquire the most salient data relevant to plant phenotyping. In the long run, this data will help breeders to identify the characteristic traits of several diseases in soybean plants."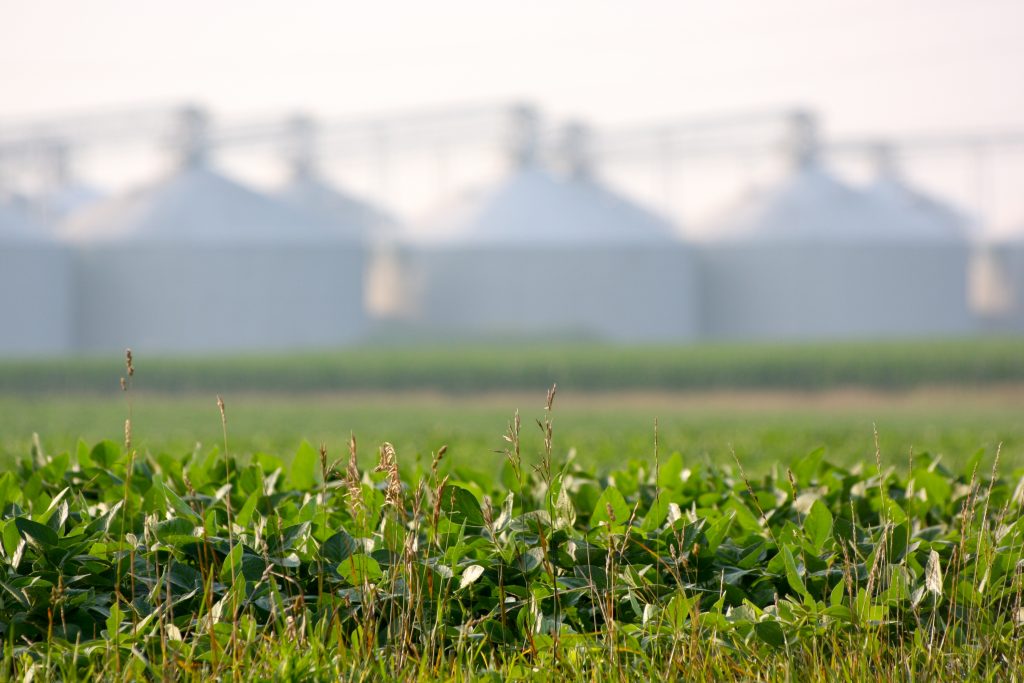 Soybeans near Seymour, Illinois. Photo by Kevin Dooley/Flickr
Asheesh Singh said he is happy to see the collaboration among various departments and other entities occurring with this project.
"This project is an outcome of the Vice President of Research's efforts to provide and promote interdisciplinary research through the Presidential Initiative for Interdisciplinary Research on Data Driven Sciences, and research support from the farmer-led Iowa Soybean Association," said Singh. "The leadership at the VPR, the College of Engineering, the College of Agriculture and Life Sciences, the Plant Science Institute, the Department of Mechanical Engineering, and the Department of Agronomy levels have helped create the collegial environment to pursue research endeavors that serve our state's stakeholders and advance the field of phenomics and precision agriculture, which will benefit farmers and researchers nationally and internationally. Plant phenomics is going through a revolutionary phase, and Iowa State University is at the forefront of leading these efforts through the partnerships of scientists and engineers."